This week in class, it was interesting getting to see how we react and receive information when given to us in different forms and mediums. Furthermore, the techniques and methods used by each of these mediums, particularly photography and film, that make us feel a certain way or draw our attention to something in particular. For example, when we discussed the filming strategies used in Saving Private Ryan or talked about what stood out to us most in the iconic Vietnam War photo.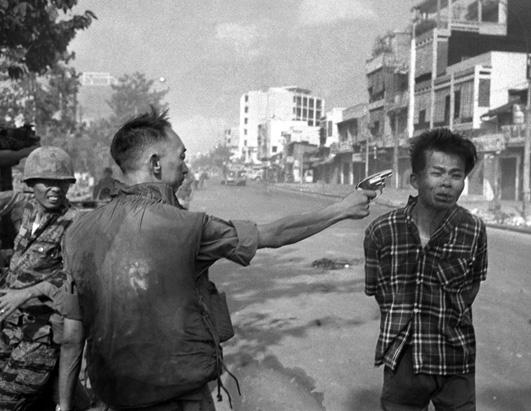 Answering questions about photography allowed us to open up to these new ways of thinking and interpretation. I have also come to realize, by examining and reading about war photography, how truly powerful photography can be. Reading Susan Sontag's "Looking at War" made me think about an argument made by critic Roland Barthes on a certain photograph taken in 1865. The photo is of Lewis Payne, who was involved in Abraham Lincoln's assassination, as he sits on death row awaiting his execution. The photographer is Alexander Gardner.
What fascinated Barthes was that this photograph was a representation of both the past and the future. It reveals something that has already happened yet at the moment it was taken, Payne's death had not yet happened. Barthes resents the fact, however, that all photos are essentially a representation of the sitter's impending death. In other words, a photograph is a past presence of a future death, whether the sitter is still alive or not. I think photographs (those that are not staged) provide such an accurate representation and authentic depiction of something that it allows us to place ourselves in that context, making them so powerful. We imagine ourselves in that moment and can feel completely transported. I think many of us felt this way when watching Saving Private Ryan or observing the Vietnam War photo.
I was also intrigued by Sontag's comment about photography's ability to turn something tragic and devastating into something beautiful. Why do we find images of ruins—for example, the remains of the World Trade Center after 9/11—so beautiful? As Sontag says, it seems almost "frivolous, sacrilegious," but photographs following the 9/11 attack were, in fact, quite beautiful. As Sontag continues, "Photographs tend to transform, whatever their subject; and as an image something may be beautiful—or terrifying, or unbearable, or quite bearable—as it is not in real life." Perhaps it is not the photograph itself, but a photograph's ability to transport, transform, and create a certain sensation within us that makes it so powerful.